WE ARE MORE THAN JUST BOOKS!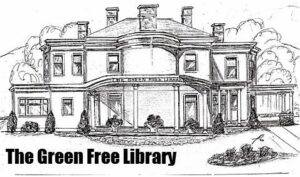 At the Green Free Library, we have more than 60,000 items in our collection. If you visit us, did you know you can:
Connect a device to free Wi-Fi
Use a computer and printer
Send a fax
Make copies
Read magazines and newspapers
Research family ancestry
Join the adult book club
Enjoy children and adult programs
AND, with a free membership, you can also:
Borrow books, audios, movies & TV series
Borrow a free PA Lumber Museum Pass
Borrow materials with automatic renewals
Plus:  we are staying FINE FREE!
The library follows Federal ADA Laws regarding service dogs.  All other issues will be addressed on a case-by-case basis.
Contact Information:
570-724-4876
134 Main Street Wellsboro, PA 16901
FrontDesk@greenfreelibrary.org
Membership@greenfreelibrary.org
InterLibraryLoan@greenfreelibrary.org
Programming@greenfreelibrary.org
AssistantDirector@greenfreelibrary.org